Template:Why we gather
From PreparingYou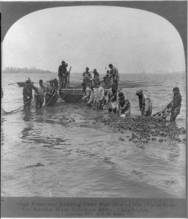 Why we gather
People can come up with a million reasons to not gather together like the early Church.
The early Church did not just gather to obtain a feeling of fellowship and community but to practice a particular kind of fellowship that comes in a community with a common communion of thanksgiving in righteousness.
At the time when Jesus, who was the Christ, came preaching that the people should repent and seek the Kingdom of God and His righteousness, people were making excuses about having to do other things first and Jesus called them dead.[1]
John the Baptist, as a voice in the wilderness, had been preaching this same Kingdom for years. He was telling the people to make straight the way of the Lord.[2] Repenting meant thinking and acting a different way. It meant caring for one another with freewill offerings, or what the New Testament calls love and charity, rather than using force like the rulers of the other governments of the world who call themselves Benefactors but exercise authority one over the other. These rulers were the fathers of the earth who forced the offerings of the people and often decided what was good and evil for the people.
The reason we gather is to serve God by serving one another through charity which is also called love. This is what it means to "come in the name of the Lord".[3] It is the voluntary practice of pure Religion rather than the covetous practices of the world which snare the mind and make the body merchandise of the mire.
Christ commanded that His disciples make the people sit down by groups of Tens linked together in ranks of hundreds and thousands so that they would be able to provide a daily ministration through love rather than lasciviousness; by faith rather than force. The righteousness of God flowing through the hearts and minds of a network formed by this pattern of Tens used by the early Church provided for Christians who followed The Way of Christ in a communion of fellowship even as Rome declined.
This was the Gospel of the Kingdom in action through grace. It is this kingdom of God we should all be seeking.
This kingdom is for the living[4] and has always required a network of ministers that strive to conform to the qualifications and criteria of Christ and God.
Why?
Because Christ came to serve through sacrifice.
A Minister is a servant of a Kingdom bound by charitable practices.
We should come together so that others might be saved by our sacrifice because that is why Christ came.
To come in the name of Christ is to come in the character of Christ.
Christ did not come to feel good or hear the music or enjoy a good uplifting sermon.
He did not come to build really nice buildings in which to meet, or cathedrals to impress people.
He certainly did not come so that he would find a group of people he could count on to save him in his time of need.
He did not come to saints but to sinners, calling them to change their thinking.
He came telling us to repent and seek the Kingdom of God and His righteousness and appointed His disciples to feed His Sheep. His sheep are those who hear His voice[5] and do the will of the Father.
Part of that mission is to provide a daily ministration based on love according to the perfect law of liberty.
Not forsaking the assembling[6] of ourselves together, as the manner of some [is]; but exhorting [one another]: and so much the more, as ye see the day approaching. (Hebrews 10:25)
Jesus and John preached the kingdom for years but there was a very limited network of people that were actually doing what Christ said. It was not until Pentecost that there was any real surge of repentance.
When the people were Baptized on Pentecost they had to start caring for each other with freewill offerings. They had to organize themselves and set up a daily ministration by charitable means, rather than the system of welfare offered by Herod or Rome with its free bread, so that the needy of their community and society would not be neglected.
Since the ministers of Christ are forbidden to exercise authority one over the other like the administrators of the world who call themselves Benefactors, it is up to the people to organize themselves into congregations of Tens to form that Living Network which is the Church.
Forming CORE groups and linking them together with consistent daily sacrifice in a system of social welfare based on charity is what seeking the Kingdom of God and His righteousness is really all about.
Where Shall We Eat
Israel was in the same bondage we are in today.
It was a system of Corvee which made them Merchandise.
This was not because of what governments do but what our fathers and our generations chose to do. The parents of those in bondage brought about that bondage generations before they found themselves enslaved.
So what did they do to obtain freedom?
What did Moses Say?
They did not cry fraud.
They did not attempt to rescind their bondage.
They instead began to bind themselves with love and caring for one another in hard times so they survived and thrived during the plagues of Egypt which prepared them for the exodus.
The same is true for the early Christians who, because of their commitment to loving their neighbor, were better equipped to deal with occupation of foreign troops, economic dearths and depression, geological disasters, eventual destruction and forced migration.
We need to gather for the purpose of saving others,
not saving ourselves
. If we desire the protection of the Holy Spirit we will gather like the early Church seeking the righteousness of God.