Vows
From PreparingYou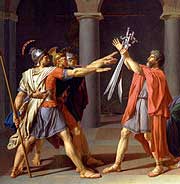 Abjuration
Abjuration is the solemn repudiation, abandonment, or renunciation by or upon oath, often the renunciation of citizenship or some other right or privilege. (It comes from the Latin abjurare, "to forswear").
Someone objected to our reference to religious vows in a discussion on The Living Network about abjuration and asked:
"Christ's words are plain, and easy of understanding to those who wish to comprehend, at least in this instance. Otherwise, why would He follow up a statement such as "swear not at all" in direct connection vows and vowing with "Let your yes be yes and your no be no; all else comes from sin"?"
Jesus does not connect swearing with vows and vowing. This is erroneous thinking and leads to confusion about the Gospel of the Kingdom and the teachings of Jesus.
This connection is done by translators and people who are confused about what Christ was saying. Jesus did not speak in English. The accounts of the Bible should always be examined in their earliest form to double check our private interpretation against the usage and meaning of words at the time the Bible was recorded.
There is so much deception out there it is very easy to be fooled and deceived.
The confusion concerning the words of Christ should be clear by a brief examination of modern translations and the early text. When navigating our way through the world of scripture. In the doctrines created by translators, it is often wise to consult your Concordance as well as the way words were used at the time they were originally written.
Let us examine a few words in their context and their different translations.
Oaths and Vows
Matthew 5:33 Again, ye have heard that it hath been said by them of old time, Thou shalt not forswear thyself, but shalt perform unto the Lord thine oaths:
The word we find in the Greek translated oath is ὅρκος, Horkos from Greek mythology where Horkos personifies the curse that will be inflicted on any person who swears a false oath.
The word horkos is always translated oaths in the King James Bible and most other Bibles. A few translations put the word vow there but there is another word translated vow in the New Testament that does not mean oath.
Some people would still like to think this word horkos should be vow and not oath but that would just create confusion and has in the past done much harm.
We see this word numbered in Strong's Concordance as 3727 ορκος, horkos from herkos (perhaps akin to horion meaning boundary and erkos meaning fence, enclosure); it appears 10 times as oath. And is defined as "that which has been pledged or promised with an oath."
It is not that an oath is a "pledged or promise" but that it is the binding of your actions and deeds by oath before and exercising authority that is objected to by Christ.
Here is an audio program on the subject:
The idea that there is something wrong with vows or that Jesus made some sort of prohibition against them is a doctrine spread by ignorance and lack of knowledge. Because people wish to mistranslate words incorrectly or out of context great damage to their ability to see the whole gospel has occurred. This is because it creates a false prohibition like a fence in our minds that prevents true understanding.
When a man and women take vows as Husband and Wife are they sinning against Christ?
All they are saying is yes, we take each other as Husband and Wife, before witnesses, yet these statements are called vows.
Are we changing the meaning of the word vow?
Has that word already been changed in our minds by others?
The word euche is a noun and euchomia is the primary verb. They are listed as synonyms for each other meaning a solemn statement. You cannot change them into a promise or oath without adding the elements of an oath to your statement.
The word proseuche is a compound word. The words pros and euche are combined to express an idea of together and prayer. The preposition pros means toward, and denotes a sense of closeness. The word pros can be used to portray the intimate relationship that exists between the members who pray together.
Are vows vow oaths or are they prayers?
Vows and Prayers
Today the word vow is defined "a solemn promise, pledge, or personal commitment: marriage vows..." But in the KJV of the Bible vow is translated from a word that means prayer. Translating horkos as vow might lead someone to think that Jesus prohibited vows yet the original words of the text may reveal a very different meaning.
These little deceptions through sophistry can go a long way to confuse the whole world. We have shown this a hundred times and more in our writings. Sophistry like this leads many people astray and has kept people from becoming doers of the word.
Some translations use the word vow instead of oath in Matthew 5:33 but this leads to confusion since we see another word for vow which appears in the biblical text in Acts 18:18 where we see that Paul took a vow, Acts 21:23, and in James 5:15 where the word is also translated prayer.
Acts 18:18 "And Paul after this tarried there yet a good while, and then took his leave of the brethren, and sailed thence into Syria, and with him Priscilla and Aquila; having shorn his head in Cenchrea: for he had a vow <euche>."
Acts 21:23 "Do therefore this that we say to thee: We have four men which have <euche> a vow on them;"
James 5:15 "And the prayer <euche> of faith shall save the sick, and the Lord shall raise him up; and if he have committed sins, they shall be forgiven him.
You do not have to become a Greek scholar but you should be willing to peek over the theological fence that other men have constructed in your mind with their different translations and private interpretations. The word we see for vow in these verses is euche or euchomai which means a prayer to God, a vow, what you desire or intend to do. It is the word from which you get eucharistos or Eucharist.
Other words like proseuche translated prayer 36 times or proseuchomai which is the word pray almost 90 times are extensions of this word we see translated vow.
The word euche is clearly not the same as word horkos more often translated oath but some people want to imagine that they can use these words interchangeably. They do the truth and Christ a disservice and if they continue in this they are bearing false witness about what Christ actually said and meant.
We have seen how translators can translate five different words into the same English word and the same Greek word into five or more different English words. If you couple this practice with the truth that each English word can have many different definitions then you should clearly see without some reference to original texts that you are opening the door to confusion and even lies. There should be a consistency in translating and the use of words in translations and especially in formulating your own conversations about Christ's doctrines.
So the word vow can mean several things. Matrimony is established with vows publicly announced before witnesses and God. This is not the same as Marriage vows as established by the authority of the State which fences a husband and wife under the authority of the State.
By not examining the meaning of words and the purpose and spirit of the original authors including their choice of words we are dissembling the Gospel of Christ and equivocate over the meanings of His words by worshiping what we want to believe is true rather than accepting the truth of what Christ actually said. We are leading people astray and are fencing in our thinking by our own personal interpretation and prejudice.
Don't be led astray by bad translations and other tools of sophistry.
A vow, as used with the translation of the Greek word eucho and used in the Bible, is a prayer.
A vow is a statement.
"A vow is not an oath."[1]
"A vow is not an oath."[2]
"A vow is not an oath."[3]
A vow is a statement.
A vow (euche¯) is a willing undertaking of good things. [4]

A vow is not even a promise.
Can a vow be like vote?
A promise is "a declaration that something will or will not be done, given, etc." and it is made to someone or some organization but a vow is an expression of intent to the general public but between you and God. It does not bring you under the authority of others, adjure or establish a jurisdiction under the authority of others.
Hebrew Vows and Prayers
The Hebrew verb pâlal, PeiLamedLamed, is a primitive root translated pray 74 times, made 3 times, judge twice, intreat, judgment, prayer, supplication, thought once each. It is said to mean to intervene, interpose, pray, make supplication
Some scholars agree that corresponding Greek Words for pâlal include:
palal hithpa.,pi. G4336 pros euchomai
palal hithp. G2172 euchomai

Another word that is derived from this word palal an translated prayer 77 times is t@phillah TavPeiLamedHei beginning with the letter that stands for faith. Pei means communicate Lamed is the aspiration heart in action and Hei is an emphasizing letter for solemnity. Take away the Hei and the word represent foolish or even white.
Corresponding Greek Words t@phillah includes:
G2171 euche
G2172 euchomai
G4335 pros euche
And this list may include G1162 deesis


Both these words are corresponding to euche and euchomai and even pros euche.
On the other hand the Hebrew word shaba ShemBeitAyin appears as sware 167 times, charge 8, oath 7, adjure 3, straitly twice. It does mean to swear or adjure or to cause to take an oath.
Corresponding Greek Words may include:
G163 aichmalotizo, to lead away captive metaph. to capture ones mind
G3726 en orkizo, to force to take an oath, to administer an oath
G1844 ex opkizo, to extract an oath, to force to an oath
G3726 horkizo, to force to take an oath, to administer an oath to
G1843 ex omologeo to confess 2) to profess
G1965 epi orkos a false swearer, a perjurer
G3660 omnuo to swear, to affirm, promise, threaten, with an oath

Or the following that are used in conjunction with an oath or swearing.
G994 boao to raise a cry, to cry to one for help
G2896 krazo to cry or pray for vengeance
G3670 homologeo to say the same thing as another, i.e. to agree with, assent to concede

None of these words would include the word euche. The word euche in the Greek has no connection to any word associate with swearing or taking an oath.
The Nazarite Vow
Judges 13:5 "For, lo, thou shalt conceive, and bear a son; and no razor shall come on his head: for the child shall be a Nazarite unto God from the womb: and he shall begin to deliver Israel out of the hand of the Philistines."
Matthew 2:23 "And he came and dwelt in a city called Nazareth: that it might be fulfilled which was spoken by the prophets, He shall be called a Nazarene."
So is a Nazarite the same as a Nazarene?
Nazarene is a title applied to Jesus, who, according to a common interpretation of the New Testament, grew up in Nazareth. The word is used to translate two related terms that appear in the Greek New Testament: Nazarēnos (Nazarene) and Nazōraios (Nazorean).
It says "city called Nazareth" and the word "city" is the Greek polis which is always translated city in the Bible but does not always mean city like we think of city.[5]
Polis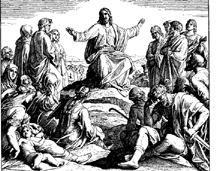 The word commonly translated city in the New Testament is the word Polis which may not mean a town or city as we think of the term today. It may mean a juridical community.
A "polis" (plural: poleis) was not always a place but could also be something that you were a part of like a community. "It can also mean citizenship and body of citizens."[6]
According to Dr. Gerard Casey Professor Emeritus of University College at Dublin a polis was neither a city nor a state but a sort of fellowship. In Aristotle's Politics, it is suggested that a polis is something more than a collection of individuals seeking safety in life and gain in the exercise of trade. It was "a union of families and villages in a perfect and self-sufficing life by which we mean happy and honourable life" [7] A polis might not have members as we think of citizens of a State but the individual was a member of a family which formed a community of aggregated families in the common pursuit of happiness.
In another Polis the people might give up some of their freedom and power of choice to the State in order to obtain protection or benefits. In such a polis the people would be persons who would be less and less free as more and more power of choice was vested in the State or Polis.
A "polis" was the social structure of a community in the ancient Greek world. Although poleis were each a unique cultural and political unit, a common feature included religious beliefs. Since Religion was the manner in which you conducted and provided welfare for a community the Corban of groups like the Essenes, Mandaeans or "Nazarene".
The Pharisees and Rome provided civil polis systems of welfare called Corban too but those types of welfare systems made the word of God to none effect.
Dr. Moshe Berent wrote:
"Though the notion of the free, or self-governed community, originated in ancient Greece, the Greek polis seems to pose a problem for the modern post-Hobbesian concept of sovereignty. For the latter presupposes that of the State, that is an agency which monopolizes the use of violence, as an instrument by which sovereignty is constituted. Yet, the polis was not a State but rather what the anthropologists call a stateless community. The latter is characterized by the absence of 'government', that is of an agency which has separated itself from the rest of social life and which monopolizes the use of violence. In stateless societies the ability to use force is more or less evenly distributed among armed or potentially armed members of the community. Being stateless, then, in what sense can we say that the polis was sovereign? On the practical level the Greek polis had a very limited ability to control and direct legislation. The decentralised nature of Greek society and the absence of coercive apparatuses meant that the laws had to be identical with the customs of the community or else that decisions had to be shared by a wide consensus, which imposed a severe limitation on the ability of the poleis to change their laws or initiate changes in the community."[8]
This description of the ancient Polis government is where the leaders are only titular and not "lawmakers". It ascribes more to the Libera res Publica of ancient Rome before the rise of emperors and the virtual death of the Republic. If the leaders of society are only servants who cannot exercise authority one over the other the people remain free.
These voluntary societies were supported by the generosity of the people rather than the force commonly used in modern governments today. The character of the society created by such a Republican form of government was not only different but often more common than the modern historian would lead us to believe.
Tacitus in his description of ancient Germania writes, "The communities are wont, of their own accord and man by man, to bestow upon their Princes a certain number of beasts, or a certain portion of grain; a contribution which passes indeed for a mark of reverence and honour, but serves also to supply their necessities."[9]
The words 'of their own accord' is from the Latin 'ultro' meaning 'voluntarily'. "[O]ur modern reliance on government to make law and establish order is not the historical norm."[10] See Orders
Jesus uses the same word polis in Matthew 5:14, "Ye are the light of the world. A city that is set on a hill cannot be hid." He is instructing his apostles and followers to be that light and city as he continues in Matthew 5:16 "Let your light so shine before men, that they may see your good works, and glorify your Father which is in heaven."
The people of Israel were strangers and pilgrims but the Hebrews passage is talking about the city that actually is given to us, not as a location, but as something to be a part of since we are not to be "of the world".
The word politeia[11] from polites[12] which is from polis is translated freedom [13]and commonwealth[14].
---

If the term Nazareth represented one of the communities or groups of communities that kept themselves separate from the socialist movement of Herod and the Imperial Cult of Rome and its social welfare through the state then a new light could be shed upon the Gospel of the Kingdom, John the Baptist, the meaning of Repent and would explain the true nature of the Christian conflict that got Christians persecuted.
Many archaeologists agree that Nazareth as a town did not exist and there is no evidence of buildings dating to the first century in that location. This dos not make the Bible in error. Polis as a Greek term can mean an identifiable group with its own civil structure and not always a place with buildings.
It was common knowledge that "Nazarene" did not mean to be a person from a town called "Nazareth" but a member of a pre-Christian sect or community or religious order that eventually morphed into Christianity. It was well known that the priests of the pre-Christian baptist cult known as the Mandaeans were called Nazarenes.
Others like Epiphanius[15] knew that the Nazarens(Nazoreans) existed 'even before Christ,' as did the "so called Essenes' at Quamran".
Even the Church father Tertullian clarified that "Nazarene" was derived from Nazarite," a "class of Jewish ascetics," who existed long before the Christian era, as mentioned in the Old Testament(Numbers 6, Judges 13, Judges 16)".
As was stated in the article concerning the Long Hair of Jesus there is little to no evidence that Nazareth ever existed as a town at or before the time of Christ.
Nazareth is not mentioned in the Old Testament.
The Talmud names 63 Galilean towns but no Nazareth there nor in early rabbinic literature.
St Paul mention Jesus 221 times but does not mention 'Nazareth'.
There seems to be no ancient historian or geographer who mentions Nazareth.
The 3rd century Church Father Origen lived at Caesarea some 30 miles from where Nazareth was supposed to be, knew the gospel but had no clear idea where Nazareth was.
Nazareth seems to be first noted at the beginning of the 4th century as a real place.
In Acts 18:18 Paul cut off his hair "because of a vow he had taken".[16]Early Christians with a Jewish background sometimes took the temporary Nazarite vow which is likely St. Paul's. According to Hegesippus which was quoted by Eusebius, St. James the Less, was a Nazarite, and the Bishop of Jerusalem
Paul was accused in Acts 24:5–18 to be the "ringleader of the sect of the Nazarenes". So it appears that the term "Nazarene" actually meant Nazirite.
Nazarene is anglicized from the Greek word "Nazarēnos" (Ναζαρηνός)This word applied to Jesus in the New Testament.[9] Several Hebrew words have been suggested as roots:
The Hebrew word nazar which is a primitive root meaning to dedicate, consecrate, separate even to dedicate oneself, devote oneself, to keep sacredly separate and "to be a Nazarite, live as a Nazarite".
The corresponding Greek Words for nazar are listed as:
G37 agiazo to separate from profane things and dedicate to God, consecrate things to God
G48 agnizo, ceremonially used of Nazarites or those who had taken upon themselves a temporary or life long vow to abstain from wine and all kinds of intoxicating drink, from every defilement and from shaving the head.
G2126 eulabes, taking hold well, carefully and surely, cautiously
G2171 euche vow and prayer
G2172 euchomai to wish or prayfor
G526 ap allotrioo, to separate, alienate, estrange
G4337 pros echo, to turn the mind to, attend to be attentive... of caring for, providing for... to apply one's self to, attach one's self to, hold or cleave to a person or a thing... to devote thought and effort to

Here we see a connection to the word vow in the word Nazar from which we get the word Nazarite which includes ideas like separation, dedication and prayer. The vow spoken of with the word euche is about devoting one self to a way of Christ as a minister of His unique form of government.
There is a controversy as to whether Jesus was a Nazarite having taken the same vow spoken of in the old testament or that he belonged to a Nazarite Sect connected to that vow.[17] To learn more about the Nazarite connection to Jesus see Did Jesus have long hair?
Numbers 6:2 Speak unto the children of Israel, and say unto them, When either man or woman shall separate [themselves] to vow a vow of a Nazarite, to separate [themselves] unto the LORD:
Here we see "vow a vow" where the Hebrew word Nadar, NunDelethResh, form the verb and the noun meaning to separate themselves unto the LORD and be separate. Of course this was a common theme we hear from Jesus.
We see this idea of separation voiced in verse Numbers 6:21
"This [is] the law of the Nazarite who hath vowed, [and of] his offering unto the LORD for his separation[18], beside [that] that his hand shall get: according to the vow which he vowed, so he must do after the law of his separation."
This was a theme of Christ of being separate[19], being in the world but not of it[20].
So this idea of a vow is in the since statement concerning separating oneself, or dedication, even consecrated or devoted.
In Luke 11:2[21] The word Hallowed is the Greek word hagiazo[22] commonly translated sanctify, but also hallow or be holy. It is defined as someone or something "to render or acknowledge" as "separate" "dedicated" even "consecrated" to God. This is the purpose of a vow as spoken of with forms of euche. It is a solemn statement of purpose and faith, of dedication and consecration of someone or something as separate.
So, the Our Father, as that prayer is called, is in fact both a vow as we see the word euche and an application. The first part of Matthew 6:9 is a solemn statement of dedication an separation. "After this manner therefore pray ye(pros-euchomai): Our Father which art in heaven, Hallowed be thy name. Thy kingdom come. Thy will be done in earth, as it is in heaven."
It is not until Matthew 6:11 where we see the request. [23] which is followed by more of this solemn statement of dedication and consecration. [24]
Jesus and Vows
Did Jesus talk about vows or use a word translated or associated with what the word we see as vow in the bible an what did it mean at that time he was using it?
The answer is of course yes Jesus not only used the word translated vow but talked about it extensively in his instructions to us. Some will argue this point to maintain their present escotology but if we will look closely at the whole Gospel and the words used and the directions given we may see the purpose and doctrine of Christ. As we have seen a vow was not an oath or even a promise.
Once we understand the meaning and sense of the word at that time was a solemn statement of dedication Christ's words begin to fit together with what He was doing and what He told the apostles to do.
Words are not always translated the same way. As an example the word charity does not appear in the Bible until Paul says it in 1 Corinthians 8:1 but the Greek word from which the word charity is translated has already been said by Jesus many times. It simply was not translated as charity when Jesus used it, only as love.
Does this mean that Jesus never told us to be charitable? Of course not. The same is true of the word euche, translated vow in Acts, and its many forms.
When Jesus said pray in Matthew 6:9 what word did he use?
"After this manner therefore pray ye: Our Father which art in heaven, Hallowed be thy name."
When Jesus said pray He did not use the word:
deomai which is translated pray and means to want, lack 2) to desire, long for.
Nor did Jesus use the word:
deesis translated prayer and is defined "need, indigence, want, privation, penury ." And appears with other words meaning pray[25]
Nor did Jesus use the word:
erotao translated ask, beseech, pray, desire, and intreat and is defined "to question."
Nor did Jesus use the word:
parakaleo translated pray but means "to call to ones side".
Nor did Jesus use the word:
enteuxis translated pray but means "a falling in with, meeting... a coming together"
We have seen that the word euche is translated pray but more often translated vow. Does it mean a prayer or a vow or does it mean both?
There are at least eight different words used by the authors of the Bible in the New Testament alone and they are all translated by these translators as the single word pray. One of them used by Jesus in several forms means and is translated vow.
One word used by Jesus which is a synonym of the word euche commonly translated into vow is proseuche.[26] and another is proseuchomai [27]
The word pray in Matthew 6:9 was translate from proseuchomai... pros meaning "to the advantage of" and eucho meaning "to pray to God" or "vow" and translated vow in Acts 18:18 and Acts 21:23.
So here we see that Jesus uses almost three dozen times a word that contains the word we see as vow in Acts and is considered a synonym to that word.
In both Classical literature and Septuagint [LXX] usage proseuchomai and euchomai in its technical sense was employed for invoking a deity. It meant "to request, to entreat, to vow." It was a prayer or vow of confidence and faith/trust as opposed to prayers or vows to other heathen gods often requiring oaths to insure allegiance to the ministers of those pagan temples who exercised authority one over the other. Christ made it clear with the use of horkos that he opposed the oath taking which granted power but clearly supports prayers or vows by using the Greek forms of the word euche to identify prayer.
It is easy to fall back on the ancient adage that all translators are traitors but isn't it our responsibility to be diligent in the examination of the scriptures that are often used to define our faith?
Does euche which is translated both vow and pray mean vow and what did vow mean back then when Jesus was using these terms? What Jesus meant by words ascribed to Him in the sacred text is dependent on what those words meant when they were used and written down, not what we want them to mean today. This means we need to consider semantics if we want to know what was said and meant.
Semantics is the "the branch of linguistics that deals with the study of meaning, changes in meaning, and the principles that govern the relationship between sentences or words and their meanings."
Origin of the word VOW is the Middle English vowe, from Anglo-French vou. It is from Latin votum, from neuter of votus, past participle of vovēre to vow; akin to Greek euchesthai to pray, vow or the Sanskrit vāghat meaning the one who chooses to sacrifice.
There is a pray that asks for something and one that states that you wish to do something. The latter is a vow, vou, votum, from neuter of votus, past participle of vovēre ; akin to Greek euchesthai meaning to pray to God.
Euche or the word vow have no relation to the word horkos which means oath and it is false to connect and suggest that Jesus did mean vow when he said horkos.
It is clear that anyone who examines the original text without private prejudice that Jesus is instructing us time and time again concerning the type of prayer that is based on and connected to the same word meaning vow.
But still debaters and those that lack understanding will say this is semantics rather than Christ's plain-speaking. Yet without a little examination of semantics a damnable heresy will creep in and lead the foolish astray.
As we have shown someone has already changed "Christ's plain-speaking" and changed the meaning of words many times. When we point this out the proud will often cling to their own beliefs rather than see the truth.
This is actually a form of Idolatry which is another word we will have to look at but at another time.
Biblical Support of Vows
From a section of Appendix 5. of the Free Church Report Biblical Support of Vows
There are several words appearing in the Bible that are sometimes translated vow, but they are decidedly different Greek words. One Greek word, omnuo, appears 27 times in the Bible and is always translated into the English word swear in the King James Bible.
In Matthew 5:33 we see, "Again, ye have heard that it hath been said by them of old time, Thou shalt not forswear thyself, but shalt perform unto the Lord thine oaths:"
Here the word oath is translated consistently from the word horkos.[28]
It is defined, "that which has been pledged or promised with an oath."
The word oath in other translations is translated "vow".
Acts 18:18 tells us Paul "had a vow".[29] In the King James the word for vow here is euche.
Omnuo, horkos and other words all have different meanings in the Greek and can misdirect our thinking if you switch from, swear, oath, and vow. The Church must establish which definition or meaning we apply to the word vow when used in relationship to a religious order.
The same word translated vow in Acts is translated prayer in James 5:15 where he is specifically talking about a vow of faith:
"And the prayer [euche vow] of faith shall save the sick, and the Lord shall raise him up; and if he have committed sins, they shall be forgiven him."
Since we are told not to swear by Christ and also by James[30] then when the Church says Vow of poverty we are actually saying a Prayer of poverty, or chastity, faith and obedience, applying the meaning of the word euche. This is not to say the ordained minister's conscience is not bound. It is. But it is bound by love for Christ and God and the "prayer" or vow is the witness of that bond.
The word euche is from the word euchomai[31] and the meaning is "1) to pray to God 2) to wish, to pray, to pray for." Our use of the word vow expresses our intent and prayer for assistance from God to dedicate ourselves to him, stay true to that dedication, be faithful in the exercise of our duties, and obedient to the will of God. It is not like an oath in the sense of omnuo or horkos which is meant to bind us under another's authority and there is no prohibition against it. In fact it is the essence of the call to prayer to God the Father.
Wall or Battering Ram
Someone asked as if to challenge the word euche as both vow and prayer, not meaning and oath, but required by Christ:
"Where does CHRIST(no one else) either countenance, condone, approve of, insist upon or command anyone to take any vow at any time for any reason? (i do not recommend that any rely upon Paul for salvation.)"
The writer of this Question thinks not but of course the answer is yes Jesus does but in order to understand how and when he does you have to understand that word vow as it was used back then or at least how the word translated vow was used back then.
Nowhere in the Bible does Jesus ever say to use the internet'.
But here we are using the internet.
What are we thinking?
Does that seem silly to ask or say?
Well of course but it is very much to the point.
These words I write are not a wall but they are to break down the wall in the minds of men and women who cannot see the simplicity of the gospel of the kingdom from the beginning.
The word charity is not mentioned anywhere in the Old Testament but it was an essential teaching of Moses and the chief ingredient to the success of the nation of Israel.
It was called "freewill offerings" and "love your neighbor as your self".
If you read the modern Bible Jesus does not mention charity one time anywhere.
Or does He?
Of course, we know Jesus talks about love which Paul talks about all the time. When Jesus says agape they translate it love but most of the time when Paul says the same word they translate it charity.
Tell me once in the Bible where Jesus tells us to attend to the "daily ministration" as we see welfare managed in the world?
What we see the early Church doing in Acts 6:1 is different than the ways of free bread of the world.[32]
Their solution was to have the people look out amongst themselves and choose men to take care of this daily ministration of waiting on "tables"[33] so that the apostles could "appoint" them.
Acts 6:3 Wherefore, brethren, look ye out among you seven men of honest report, full of the Holy Ghost and wisdom, whom we may appoint over this business.
The word tables is the word for bank and the word for appoint is kathistemi which is translated "AV-make 8, make ruler 6, ordain 3, be 2, appoint 1,..."
When Jesus said Pray what word did He use?
Matthew 6:9 "After this manner therefore pray ye: Our Father which art in heaven, Hallowed be thy name."
He used the Greek word proseuchomai which is the word pros meaning to the advantage of and the verb euchomai from which we get the shortened form noun euche.
The Greek word euche is the word translated into vow and prayer so it does not mean oath as in swear but modern people often associate them with swearing and that is not the word or meaning we use.
Today the word vow may be defined a solemn promise. When you say solemn that sounds like oath.
The Oxford dictionary defines vow as "A set of promises committing one to a prescribed role, calling, or course of action, typically to marriage or a monastic career."
And of course the archaic definition some years ago was "Dedicate to someone or something, especially a deity:"
And the dictionary gives an example of its use in the sentence "I vowed myself to this enterprise."
Men like Stephen clearly dedicated themselves to the enterprise or business of the tables of the daily ministration.
Christ also appointed a kingdom to the apostles, laid out criteria for the job and the apostles dedicated themselves to his enterprise.
While it is clear that people were confessing Jesus with their mouth.
Matthew 15:8 tells us that is not enough. Matthew 15:8 "This people draweth nigh unto me with their mouth, and honoureth me with [their] lips; but their heart is far from me."
People often talk about Romans 10:9 That if thou shalt confess with thy mouth the Lord Jesus, and shalt believe in thine heart that God hath raised him from the dead, thou shalt be saved.
Well the word confess is the Greek word ὁμολογέω homologeo which is a compound word translated confess, profess, and promise and defined as to

1) to say the same thing as another, i.e. to agree with, assent
2) to concede
2a) not to refuse, to promise
3) to profess
You have the criteria of Christ when you couple that confession, profession, or promise with Matthew 15:8 mentioned above or:
Matthew 7:21 ¶ Not every one that saith unto me, Lord, Lord, shall enter into the kingdom of heaven; but he that doeth the will of my Father which is in heaven.
Matthew 7:24 Therefore whosoever heareth these sayings of mine, and doeth them, I will liken him unto a wise man, which built his house upon a rock:
Luke 6:47 Whosoever cometh to me, and heareth my sayings, and doeth them, I will shew you to whom he is like:
John 9:31 Now we know that God heareth not sinners: but if any man be a worshipper of God, and doeth his will, him he heareth. and of course
James 1:22 But be ye doers of the word, and not hearers only, deceiving your own selves.
But still did Jesus ever use euche? [[1]]

In Greek euche translated both pray and vow is actually from the verb euchomai which means wish or pray and produces.
Just look in Synonyms of the New Testament by Richard C. Trench where do you see the word ever related to oaths or swearing or its synonyms? http://www.blueletterbible.org/lang/trench/section.cfm?sectionID=51
It produces other compound words like:
eucharisteo to be grateful,
eucharistia the noun thankfulness
eucharistos the adjective thankful
From which we get the untranslated word Eucharist.
We see Jesus using this word eucharistos in Luke 22:19 And he took bread, and gave thanks, and brake [it], and gave unto them, saying, This is my body which is given for you: this do in remembrance of me.
So today churches take bread and break it and give it to people and think they are doing what Christ said to do in remembrance of me. But they are not.
They take bread and break it but is that what he was telling us to do in remembrance of him.
If you are in love with rituals which is a form of idolatry and not in love with the spirit of the Eucharist who will think what Jesus was doing was about breaking bread.
Modern Christians are actually doing the opposite of what Christ said because they put wafers of bread on the tongues of people but then send them to Benefactors who exercise authority for their loaves and fishes. cheese and wine, for their daily ministration.
Jesus is not recorded as using the word euche in the form of a noun but he used in the form of a verb all the time.
When Jesus speaks in Matthew 6:9 "After this manner therefore pray ye: Our Father which art in heaven, Hallowed be thy name...." He is using the verb form of the noun you see translated into vow.
We see Jesus use the same verb containing the noun euche used in Matthew 5:44 But I say unto you, Love your enemies, bless them that curse you, do good to them that hate you, and pray < proseuchomai> for them which despitefully use you, and persecute you;
And many other places[34]

Consent | Consent not | Contract | Social contract | Withdraw consent | Assent |
Marriage | Permanency of marriage | Employ | Vows | Swear not | Oath of Naturalization |
Religion | Corban | Private welfare | Welfare | Welfare types | Titular |
One purse | Golden calf | Covet | Merchandise | Benefactors | Sovereign |
Government | Governments | Civil Government |
Government and Liberty Described |
Social contract | Covenants of the gods |
Contracts, Covenants and Constitutions |
Nationalism | Republic | Democracy | Minarchism | Statism |
Fascism | Tyranny | Despotism | Federation
Communism | Anarcho communism | Communist Manifesto |
Communist Altruism | Primitive Communism | Karl Marx Marriage |
Collectivism | Altruism | Saul Syndrome | Foolishly |
Anarchist | Capitalism | Socialism | Rules For Radicals | Atheist |
Viable republic | Republican form | Titular |
The Way | Perfect law of liberty | NAP |
Taxation | Tribute | Tithe | Tithing | Pay tribute |
Legal charity | Social Security | Corban | Hierarchy |
Imperial Cult of Rome | The Democracy Cult |
Employ | Bondage | Mammon | Temples |
Cain | Nimrod | Pharaoh | Caesar | Law |
Mystery Babylon | Saving Babylon | Exiting Babylon |
Supreme being | gods many | Ideological subversion |
Schools as Tools | Roots of the Welfare State |
Covetous Practices | Consent not | Withdraw consent |
Come out | Put out | Cry out | Voice |
Kingdom of God | Church legally defined |
Pure Religion | Christian conflict |
Road closings | Right to disobey | Adhocracy | Righteousness | The Way |
Law | Divers lusts | Wantonness‎ | Goats and Sheep | Brooking | Robots |
1 Samuel 8 | Proverbs 1 | Proverbs 23 | David Crockett | Self Defense
More words you may not really understand:
Footnotes
---
See more Forbidden Definitions