Peter Paul James and John
From PreparingYou
Peter, Paul, James, and John Warned
Peter[1], Paul[2], James[3] and John[4]all 'warned the New Covenant Church that what they were doing and not doing would reveal the truth of their claim to faith in God and His Holy Spirit. Paul warned people to test their faith[5] to make sure they were not deceived or reprobates[6].
Even John warns that we need to walk according to what Jesus showed us and confess our sins if we are to be cleansed of unrighteousness.[7] John even gives the keeping of the commandments as the rod by which we measure the truth of our faith.[8] And those who do not keep the commandments are a liar and Christ is not in them.[9] Over and over John repeats that he that "doeth not righteousness" is not born again of Christ and the Father.[10] And John warns us that we may not only be deceived but may deceive ourselves [11] warning us of the many false teachers who are "out in the world".[12]
The Bible from the beginning warns[13] and continues those warnings throughout the New Testament that many will be decieved thinking they are believers while in truth they are workers of iniquity.[14] Because these warnings are ignored by the modern Church, the welfare of a foolish[15] society has become a snare.
"It is impossible to introduce into society a greater change and a greater evil than this: the conversion of the law into an instrument of plunder."[16]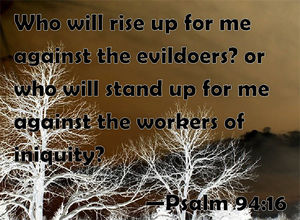 Jesus warned
The warning of James in the epistles about being a doer of works and not just a hearer is expressed several times by Jesus. Jesus warns about saying things with words only but your action or inactions must not be saying something else or our claim of faith is a lie.[17]
Jesus makes it clear that what you do and don't do matters so much that even though people praise Him as Lord he will tell them "depart from me, all ye workers of iniquity."[18] He warns that only those who hear His voice and follow Him are His sheep.[19] He warns that he will curse those who are not doers of the will of God.[20]
Jesus condemned the Pharisees for their unrighteous Corban and their false doctrines which was a lie.[21] Though they claimed to follow Moses they did not know the real Moses. Do modern Christiansknow the real Jesus.
So Jesus, Peter, Paul, James, John, and all the prophets from the beginning have been warning us that we can be deceived and check what we believe to see if it conforms to the truths that have been the same from the beginning.
Told from the beginning
Join The Living Network of The Companies of Ten
The Living Network | Join Local group | About | Purpose | Guidelines | Network Removal
Contact Minister | Fractal Network | Audacity of Hope | Network Links

Footnotes