Paganism
From PreparingYou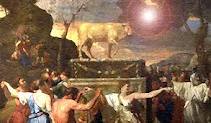 Paganism
Paganism is a term first used in the fourth century by early Christianity for populations of the Roman Empire who practiced polytheism, either because they were increasingly rural and provincial relative to the Christian population or because they were not soldiers of Christ. Alternate terms in Christian texts for the same group were hellene and gentile.
Gentile or in the Greek is the word ethnos which means those from another nation or people. Christianity was a way of life. It was a way to come together in free assemblies, where those who ministered to the daily ministration of the people did not exercise authority one over the other. Their national welfare was provided by charity through a network of these free assemblies and the servant ministers they chose to contribute to.
Religion in those days was not just what you thought about God or a supreme being. Most "pagan" religions in the Roman empire at the time of the rise of Christianity were heavily dependent upon government support which came through taxation. This was all a part of the Imperial Cult of Rome. Christians practiced Pure Religion and were often persecuted because they would not participate in the Corban type systems of social welfare which Christ condemned as making the word of God to none effect.
Rome chose over time to care for their needy through governments that exercised authority one over the other. The election of rulers and their popularity often depended on the amount of benefits they could bestow on the people. Men like Polybius, who might be called a pagan, predicted before the birth of Jesus Christ and John the Baptist that as long as "The masses continue with an appetite for benefits and the habit of receiving them by way of a rule of force and violence [and] ... having grown accustomed to feed at the expense of others ...[would] massacre, banish, and plunder,[1] until they degenerate again into perfect savages and find once more a master and monarch." [2]
---
"I'll try a pagan friend, thought I, since Christian kindness has proved but hollow courtesy." ― Herman Melville
---
Pagan Attributes
Many suggest the modern Christian practices and holidays like Christmas and Easter are derived from a number of the ancient holidays, rituals and customs of ancient religions. This is often labeled as paganism. Likewise, the Sunday vs Sabbath debate which has been a great controversy in the separation of people by denominations. But what are the essential differences between the ways of Christ and the early Church vs the rejected ideologies of paganism and its religions?
Was the conflict between Paganism and Christianity over Sabbath, holidays and calendars? Or was that conflict actually over the Holy Ways of Christ?
What was the Christian conflict in the days when paganism reigned?
Modern Paganism—also known as Contemporary Paganism or Neopaganism—is a term for movements claiming to be derived from the various historical pagan beliefs. They are certainly diverse with no single set of beliefs, practices or texts.
As an example, groups like The Pagan Federation International are open to a wide variety of pagan denominations claiming "Pagans may be trained in particular traditions or they may follow their own inspiration. Paganism is not dogmatic. Pagans pursue their own vision of the Divine as a direct and personal experience."
Even the pagans saw that it was "essential to create a network of like-minded people who shared common aims. The second major focus ... was to put Pagans in touch with each other, so that they could share views and meet and talk. A nationwide network, now run by over 40 Regional Coordinators and numerous local organisers, has been put in place so that members can meet and work together for the benefit of Paganism in general."
Their three principles of membership include "Love for and Kinship with Nature", "A positive morality, in which the individual is responsible... [which] is often expressed as 'Do what you will, as long as it harms none'" and the "Recognition of the Divine... both the female and male aspect of Deity."
---
"The need for connection and community is primal, as fundamental as the need for air, water, and food." Dean Ornish
---
People often like to feel they belong to something or some group. But what kind of community fellowship are you seeking?
The personal Philosophy "Do what you will" can be a very popular approach to religion or life, especially with the personal right to determine what "no harm" means. Doing no harm requires a moral judgement of what can be labeled good and evil.
Societies are not bound just by the idea that we should do "no harm" but by care when it is the goal of every-man to do right by one another. It is the pursuit of the righteous care for others that produces a strong, healthy and free society.
---
"Individuals can resist injustice, but only a community can do justice." James J. Corbett
---

There were numerous prohibitions in Christianity if you were to be considered a true followers of Christ. The religion of Christians was not just what you think about God nor just claiming particular set of beliefs in God and Christ. God hates the deeds of the Nicolaitan and Christ made it clear that you had to be a Doer of the word and not just a hearer.
Peter, Paul, James, and John Warned
Peter[3], Paul[4], James[5] and John[6]all 'warned the New Covenant Church that what they were doing and not doing would reveal the truth of their claim to faith in God and His Holy Spirit. Paul warned people to test their faith[7] to make sure they were not deceived or reprobates[8].
Even John warns that we need to walk according to what Jesus showed us and confess our sins if we are to be cleansed of unrighteousness.[9] John even gives the keeping of the commandments as the rod by which we measure the truth of our faith.[10] And those who do not keep the commandments are a liar and Christ is not in them.[11] Over and over John repeats that he that "doeth not righteousness" is not born again of Christ and the Father.[12] And John warns us that we may not only be deceived but may deceive ourselves [13] warning us of the many false teachers who are "out in the world".[14]
The Bible from the beginning warns[15] and continues those warnings throughout the New Testament that many will be decieved thinking they are believers while in truth they are workers of iniquity.[16] Because these warnings are ignored by the modern Church, the welfare of a foolish[17] society has become a snare.
"It is impossible to introduce into society a greater change and a greater evil than this: the conversion of the law into an instrument of plunder."[18]
What makes paganism bad is not the rituals of their holidays or the metaphors in their allegories which they glean from nature but it is their sloth in the pursuit of the weightier matters, their covetous practices instead of a practice of pure religion, their persistent taking a bite out of one another and, of course, their general unforgiveness which divides people into denominations of judgement and self-righteousness.
If we do not forgive them their holidays and superstitions how will we ever teach them about the way of Christ who never talked about those things but did talk about striving for righteousness in our giving and forgiving.
Caesar's Messiah is a 2006 book of speculative non-fiction by Joseph Atwill, which argues that the New Testament Gospels were written as wartime propaganda by scholars connected to the Roman imperial court of the Flavian emperors: Vespasian, Titus and Domitian.
The Joseph Atwill's Piso/Flavian theory falls apart as soon as you find out what the character and mission of men like Moses and Jesus really was. They agreed with each other but the Pharisees did not agree with Jesus because they did not know him.
Most of the early Church were actually Jews. Like the Church in the wilderness they were actually performing services for the people cast out of the Corban of Judea which Jesus had strongly objected to.
John the Baptist opposed Herod the Great's system of temple welfare which depended on forced offerings rather than the freewill offerings promoted by Moses.
If the Flavians wrote the Bible why would Jesus criticize the Corban of the Pharisees and Herod which was identical to the Qorban of Rome?
Jesus warned the people to call no man father because the Roman emperors were called Patronus and the Senators of Rome were called conscripti patri.
Why would Flavius have Jesus commanding his people to "Swear not"?[19]
Or why would they write that James said "But above all things, my brethren, swear not, neither by heaven, neither by the earth, neither by any other oath: but let your yea be yea; and [your] nay, nay; lest ye fall into condemnation." James 5:12
These prohibitions against oaths and swearing would not be a part of the Flavian policies since an "Oath of Fidelity" was required by Vespasian, Titus and Domitian.
During the Second Persecution, under Domitian, A.D. 81, persecutions among the Christians would bring death by order of their magistrates who commonly were addressed as gods required a "test oath" to prove innocents. Modern Christians do not know why they called these men gods. Likewise, modern Christians don't understand who their actual gods are today.
While those emperors took oaths themselves to be High-priests of their nation Jesus did not, according to Hebrews 7:20 "And inasmuch as not without an oath [he was made priest]:"
It is only a lack of understanding of Jesus and The Way that allows anyone to accept Atwill's premise of a Flavian authorship. If Modern Christians would fully repent and seek the kingdom of God and His righteousness with their whole heart, mind and soul they could not be seduced by the falsehoods and misdirection of Atwill and others.
Joseph Atwill also claims that there are dozens of parallels between the Gospels and the history of Titus and his military. This requires a huge stretch of imagination. They prove nothing but the desperate hope of selling more books.
Atwill and his followers mix facts and ignore others. They fail to explain the well-documented activities of early Christians who were well known Historical characters and what they were doing. They mislead people about the persecutions of Christians and seem ignorant of the court issue that got peaceful people executed by the tens of thousands.
The makers of the film Zeitgeist try to make comparisons with many other characters of ancient history to prove Jesus was a fictional character but the sources and information they present as fact are more often incorrect or entirely fictional.
Many people are quick to jump on board their thesis for a variety of reasons but the whole truth reveals they are confused and dependent upon speculation and leaps of logic.
---
"Sometimes the best way to learn a lesson isn't just hearing the words, but putting it into practice by experimenting with it and finding its truth for yourself instead of taking someone else's word for it." ― A.J. Darkholme, Rise of the Morningstar
---
They are right that pagan ideas crept into what began posing as Christianity after Flavius Salerus Constantinus's First Council of Nicaea that attracted only a small number of Bishops who convened in Nicaea in Bithynia.
The people advocating that the Flavians created Christianity are mixing the creation of the Church of Flavius Salerus Constantinus with real Christians.
A thousand years later during centuries of inquisitions the Church created by Constantinus would murder millions of real Christians who were a living Church practicing Pure Religion. If people had been taught the truth about the Gospel of the Kingdom and the reason for the Christian conflict Atwill's suggestion that rebellious and violent Christians were persecuted would be seen as patently false.
Rome had become a Welfare State. That had not only made the Caesar's gods but made the people subject to the Imperial Cult of Rome in much the same way as the modern image of Rome.
Early Christians were practicing Private welfare instead of Public religion. It was the Public religion which involves the Covetous Practices that made men Merchandise and curses their children with debt.
---
"Fortunately for serious minds, a bias recognized is a bias sterilized." Benjamin Haydon
---
"And ye shall know the truth, and the truth shall make you free." (John 8:32)
---
Religion | Pure Religion‎ | Private welfare | Fleeing Religion |
False religion | Public religion | Our Religion | Christian conflict |
Corban | Baptism | Benefactors | ThatWord | Daily ministration |
Modern Christians | Diocletianic Persecution | Christians check list |
gods | Judge not | Judge | Fathers | Deist | Damnable heresies |
Factions_at_the_altar |
Pharisees | Sadducees | Zealot | Essenes | Levites |
Messianic Judaism | Menahem the Essene | Sanhedrin |
Altars | Clay and Stone | Red Heifer | Golden calf |
Freewill offerings | Religion | Pure Religion | Public religion |
Christian conflict | Paganism | Denominations | Dispensationalism |
Benefactors | Corban | Daily ministration | Calendars |
Cult | Imperial Cult of Rome | Guru_theories| | Covet | Merchandise |
Mark of God | Mark of Cain | Mark of the Beast | Nature of the Beast
Section 666 | Benefactors | Biting one another | Cry out | Worship |
Church | Temples | Religious Orders | Priests | Kings and priests |
Hear | Bible Index | Network |
Join The Living Network of The Companies of Ten
The Living Network | Join Local group | About | Purpose | Guidelines | Network Removal
Contact Minister | Fractal Network | Audacity of Hope | Network Links

Footnotes