Home church
From PreparingYou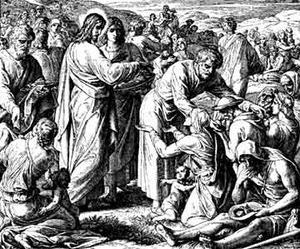 Disappointing Church
Millions of people are disappointed or dissatisfied with what some people call the institutional Church. Certainly, Churches and the 40,000 denominations of churches are operating in a drastically different way than the first century Church. Are people disappointed or dissatisfied with God and Jesus or are they dissatisfied and unfulfilled by the practices of the Modern Church?
Many people are finding the home Church more responsive, more intimate, more fulfilling but are all home churches doing what Christ fully intended?
While there is little doubt Christians commonly met in houses what Christ intended and what the early Church was doing reached far beyond local fellowship meetings in the homes of believers. There is also little doubt that Christ wanted us to set ourselves down in small intimate groups or companies or what the Greeks called sumposion[1] since He actually commanded his disciples to "make" the people do so.[2] But He also commanded that those companies gather in ranks of Tens.
Jesus was the highest son of David which made him the rightful heir to the throne, the rightful king of a nation. Israel was not a government like other governments of the world of the Gentiles that exercise authority one over the other but He came to set men free. For hundreds of years, early Israel had operated with no taxation except the freewill offerings of tithes to individual Levites "according to their service".[3]

The scriptures tell us that the people had rejected God when they elected to have a ruler over them in 1 Samuel 8. Jesus told the Pharisees that if they actually knew Moses they would have also known Him. Evidently what the Pharisees thought they knew about Moses was wrong. Their Corban was not like that of the Corban spoken of by Moses and so somehow it was "making the word of God to none effect".
Both Moses[4] and Jesus told the people to "love their neighbor as themselves".[5] Certainly they have expressed that love in many home Churches. They have helped one another in far more intimate, financial, and practical ways. This love is part of the keys to their success. But all home churches are not successful. But what is a successful church?
A successful church is one that does what Christ intended and propagates his doctrines and ordinances. But if we are to do what Christ intended was must look at the whole gospel.
Both Jesus and Moses called out a group of men to serve the people and placed certain restrictions on that body of public servants. They both appointed 70 men who were blessed with the Holy Spirit. In both the Old and New Testament there were also at least one group of 7 men appointed to help with a daily ministration.
Leaving Church
Thousands of people are leaving what is called the Church daily. Looking at what is sometimes posing as Church today it is no wonder that so many people think they do not need "Church". When Jesus said he would build His church he was not talking about a building nor does the original term we translate into Church mean an "assembly".
Many people have a problem with the modern version of an organized Church. One problem seems the way the Church is organized and what we think when we hear the word "organized" today. People can be so soured by their experience so that they begin to oppose anything organized like religion or even government. The Modern Church is seldom organized like, nor function in the same way, nor seemingly for the same purposes as the early Church.
Some Christian groups choose to meet in houses for a variety of reasons. They may find what is posing as the Church authoritarian, manipulative, greedy, or superfluous. Home Church groups may offer an intimacy and personalization the large church gathering cannot provide. It may certainly be cheaper than meeting in a dedicated building.
Some believe small churches were a deliberate apostolic pattern in the first century, and they were intended by Christ from the beginning. There seems to be evidence of that intent but we need to seek the whole plan of God and His righteousness.
House Church revisited
First Gatherings
The Church is not a building and the Greek word ekklesia translated "Church" clear means a "called out" group of people and biblically never refers to a building. These men called out by Christ were specifically told that they needed to be separate from what Jesus called the world. The habit of thinking of the Church as a building or a place you go to is not only dangerously misleading it is patently wrong.
"There is no literary evidence nor archaeological indication that any such home was converted into an extant church building. Nor is there any extant church that certainly was built prior to Constantine. The first churches consistently met in homes. Until the year 300 we know of no buildings first built as churches." Graydon F. Snyder professor of New Testament at Chicago Theological Seminary.
So, if the Church is not a place or a building but men called out like the Levites to do the job prescribed by this other King, one Jesus, the Christ, according to His purpose those ministers of Christ must remain separate complying individually as joint heirs with the directives of Christ for His disciples about owning property.
The congregants who gathered with these called out were going to His Church. They practiced pure religion rather than public religion and cared for one another by freewill offerings rather than force according to all biblical teachings would be called Christians. These practices and positions imposed by Christ have sometimes created a Christian conflict with the legal systems[6] of the world.
This called out group of men who acted in one accord as was one form of government bound society through congregations of the people who came together in small groups of tens but were networked by these ministers in a social welfare system of faith, hope, and charity rather than the covetous practices of the world that operated by fealty, fear. and force.
Many have begun to realize that the Church, as the Body of Christ, was first established by Christ, who was both high priest and king, should not be incorporated into or by a State. If any group does incorporate it can no longer honestly claim to be the corpus of Christ since it has become a part of the corporation of the State.
What is a house church?
The phrase "Home church" is used to describe having a church type gathering at someone's house and is a part of the modern house church movement which some acclaim as a rediscovery of the New Testament or first century Christian Church.
A House church group may be a part of a larger Christian body, such as a parish or network, but also may be independent groups that see the house church as the primary practice of the early Christian community. ut what was that early Church do and how did it function in the world?
Do we have a complete picture are we missing certain key elements of the local Christian community and the society of Christians who survived the decline and fall of the Roman empire and the degeneration of the Imperial Cult of Rome?
Is the home Church movement seeing clearly what the early home gatherings of the early Church were doing?
While there can be no doubt that early Christians gathered in small groups often meeting in homes rather than in special building like we see being done today it is important to look deeper into the function, purpose, and motivation of the early Christian community.
Why were they meeting at all?
What were they doing at these home gatherings and how did those gatherings relate to the activity of Paul and the other saints in the scriptures?
It is clear by what we see Paul and the apostles doing that the church was an international network of small but well-connected congregations that provided all welfare, aid, and provisions during social unrest, economic dearth and famine as Rome and the Empire began to fall into chaos and corruption.
Stretching Scripture
The departure from organized Church can bring condemnation and accusation from the mainstream Churches, other Christians and even create feelings of personal guilt and discomfort. In order to justify that departure from the orthodox view and the institutional church assembly, people will search the scriptures to transform the modern view into something they find more accessible and acceptable.
But are they seeking what Jesus the Christ said to seek?
We should closely and honestly examine why so many people are asking "how does the Bible portray the church?"[7] Unfortunately, some people may stretch the original meaning of the text to justify the home Church movement as they wish to see it and experience it. The use of quotes to associate church with a house gathering can lead people to miss or fall short of some of the primary directives, purposes and functions of those early Church.
If we are going to conform to Christ, His doctrines and ordinances we need to seek the whole truth. What did Jesus appoint to the called out ministers which were called the Church? We were told to be seekers of the Kingdom of God and His righteousness. What was the gospel of the kingdom and what were they actually doing back in those ancient of times What can and should that mean to us today?
House
One of the first scriptures quoted by some home Church advocates point to where the Church was called "God's household". In some translations in the King James version of 1 Timothy 3:15 we see:
"But if I tarry long, that thou mayest know how thou oughtest to behave thyself in the house of God, which is the church of the living God, the pillar and ground of the truth."
Here we find the Greek noun "oikos"[8] meaning a "house". But the phrase "house of God" appears numerous times in the gospels.[9] These are not talking about private homes but are a specific reference to the tabernacle where the shewbread was eaten by David.
Besidea the word we see translated "house" which is oikos[8] did not just mean a building or the house on the street where you live any more than the Greek word for "Church" which is ekklesia, meant a building where you meet on Sunday or Sabbath.
Both these words can be used in different ways to imply different senses to the word depending on their context. Context is not only the sentence they are used in but the whole context of scripture and the times in which they are written.
The word "oikos" could mean "all the persons forming one family", "the family of God, of the Christian Church" or even the "descendants" of a family. The word appears more than a hundred times in the Bible including references to the "lost sheep of the house of Israel"[10] and a reference to the temple as the "house of God"[11] or the temple where Christ is calling it "My house" "the house of prayer" and then cast out the moneychangers.[12]
Several passages in the Bible seems to specifically mention churches meeting in houses.
Upper Room of Acts 20:8 "And there were many lights in the upper chamber[13], where they were gathered together."
Lydia's House Acts 16:40 "And they went out of the prison, and entered[14] into [the house of] Lydia: and when they had seen the brethren, they comforted them, and departed."
1 Corinthians 16:19 "The churches(called out) of Asia salute you. Aquila and Priscilla salute you much in the Lord, with the church(called out) that is in their house."
Priscilla and Aquila's house:
Romans 16:3-5 "Greet Priscilla and Aquila my helpers in Christ Jesus: 4 Who have for my life laid down their own necks: unto whom not only I give thanks, but also all the churches(called out) of the Gentiles. 5 Likewise greet the church(called out) that is in their house. Salute my wellbeloved Epaenetus, who is the firstfruits[15] of Achaia unto Christ."
Archippa's house Philemon 1:2 "And to [our] beloved Apphia, and Archippus our fellowsoldier, and to the church(called out) in thy house:" Archippus is named once alongside Philemon and Apphia as a host of the called out, and a "fellow soldier."[16] In Colossians 4:17 we see Paul intimating "And say to Archippus, Take heed to the ministry[17] which thou hast received in the Lord, that thou fulfil it."
Nympha's house in Laodicea Colossians 4:15 "Salute the brethren which are in Laodicea, and Nymphas, and the church(called out) which is in his house."
All these verses could be talking about people gathering in someone's house if "oikos" only meant someone's house and not "all the persons forming one family" or the "descendants" of a family or the house of Israel or even the "kings house"[18] which include all the people who work for the king which brings us to the term "ekklesia" which we translated "Church".
The word "ekklesia" did not mean a gathering or assembly of congregants. People like to say that an ekklesia is an assembly but is misleading because there are many words that more accurately mean an assembly. If you are going to read the words aas they were said the word ekklesia means the "called out".
Ekklesia
The word Church could be used in a general sense to describe everyone following the way of Christ. Or it could be used to describe a more specific group of people. People even use it to describe a building. But that is not how the term was used in the original text.
The word Ekklesia did not really mean an assembly but it was clearly a called out group. Jesus called out the apostle for a particular purpose. But before we address that purpose let us look at some other words that can mean assembly.
Words like agora and paneguris as well as heorte, koinon, thiasos can all mean an assembly. There are other words in the Greek that can mean a small assembly of people like sumposion [19] which is used in Mark 6:39 when Christ commanded the people be assembled in familiar patterns of tens. The Greek words sunagoge[20] and sunago[21] or even sunalizo a verb that means "to gather together, assemble" [22] all contain the root of the word synagogue but none of them mean the same as the term ekklesia.
The authors of the Bible used the term ekklesia for a good reason. The word ekklesia was often used as a political term in the Greek. This makes perfect sense if we accept the idea that Jesus was the King of the Kingdom of God at hand. In classical Greek "ekklesia" meant "an assembly of citizens summoned by the crier, the legislative assembly."[23]
The disciples were called out much like Moses called out the Levites to be separate and do service to the congregations of the people. Those Levites were the called out by Moses and appointed by his authority to become the "Church in the wilderness". Jesus certainly was not telling people to seek the Church of God but the kingdom of God. The called out were to feed His sheep and provide other services to the people who would follow The Way.
Household
There are several words in the New Testament translated "household". One of the first appearances is when Jesus warns us in Matthew 10:25 and Matthew 10:36[24] that his disciples will be falsely accused or even demonized. The noun "oikiakos"[25] only appears in the Bible in these two verses and is referring to "one belonging to a house". The belonging to a house does not necessarily mean family house. In the first verse, we also see the phrase "master of the house"[24] as a phrase referencing Jesus as Lord and master of His house translated from the word "oikodespotes" [26] which is more commonly translated householder or goodman of the house but clearly means someone who has rule over a house.
Household of God
We see the phrase "house of God" three times in the epistles in a much different context. Of course, 1 Timothy 3:15 which we have seen but also in Hebrews and Peter.[27] None of this has anything to do with church service in the home. If we misapply verses or the original meaning of words in scripture we can easily miss their intended message of the author.
We also see the phrase "household of God" where the adjective "oikeios"[28] is used in Ephesians 2:19.[29] The term "oikeios" is describing someone who is seen as " belonging to a house or family". So the text is talking about people who belong to the "house of God" which could also be another way of saying the "children of God" which is another common Phrase in the text.[30]
And finally we see the phrase house or "household of faith" mentioned in Galatians 6[31]
Service Rendered
Now another word translated "household" is the completely different Greek word "therapeia"[32] meaning a "service rendered by one to another" which is found in Matthew 24:45, Luke 9:11, Luke 12:42 , and Revelation 22:.2[33] As we can see this noun does not mean your house or s house but has to do with a "service rendered by one to another" specifically a "medical service: curing, healing" "of a nation" orit can refer to a "body of attendants, servants".[32]
In Luke 12:42 we see several interesting words that Jesus said, "And the Lord said, Who then is that faithful and wise steward[34], whom his lord shall make ruler[35] over his household[32], to give them their portion of meat[36] in due season?"
People had a choice when Christ came. To obtain their "portion of meat" or free bread they could get it from the Church ministers appointed by Christ or from the Caesar's administers appointed by Rome. Caesar and the Pharisees were using force to fill their treasury and provide that daily free bread but the apostles and the Church were using charity which is the righteous service of love in action to which is why they say that they rightly divide the bread from house to house.
This was what the doctor ordered. This is what Jesus the teacher was saying and if we were not doing this we were not considered believers by the early Church. Until John the baptist everyone was trying to use systems like socialism to establish their kingdoms or government utopias by force. Jesus was preaching a kingdom of love and charity and appointed his Little flock the responsibility to see that His people, His sheep, lived by that charity. Unlike the governments of the world, they could not exercise authority one over the other.
Other verses
Other quotes that home churchers use talks of "common meals" together in almost a communal fashion.
Acts 2:45 CONTEXT
42 "And they continued stedfastly in the apostles' doctrine and fellowship, and in breaking of bread, and in prayers. 43 And fear came upon every soul: and many wonders and signs were done by the apostles. 44 And all that believed were together, and had all things common; 45 And sold their possessions[37] and goods[38], and parted them to all men, as every man had need. 46 And they, continuing daily with one accord in the temple, and breaking bread from house to house, did eat their meat with gladness and singleness of heart, 47 Praising God, and having favour with all the people. And the Lord added to the church daily such as should be saved.
1 Corinthians 11:CONTEXT
17 "Now in this that I declare unto you I praise you not, that ye come together not for the better (advantage), but for the worse. 18 For first of all, when ye come together in the church, I hear that there be divisions among you; and I partly believe it. 19 For there must be also heresies(choices) among you, that they which are approved may be made manifest among you. 20 When ye come together therefore into one place, this is not to eat the Lord's supper. 21 For in eating every one taketh before other his own supper: and one is hungry, and another is drunken. 22 What? have ye not houses to eat and to drink in? or despise ye the church of God, and shame them that have not? What shall I say to you? shall I praise you in this? I praise you not.
23 For I have received of the Lord that which also I delivered unto you, That the Lord Jesus the same night in which he was betrayed took bread: 24 And when he had given thanks, he brake it, and said, Take, eat: this is my body, which is broken for you: this do in remembrance of me. 25 After the same manner also he took the cup, when he had supped, saying, This cup is the new testament in my blood: this do ye, as oft as ye drink it, in remembrance of me. 26 For as often as ye eat this bread, and drink this cup, ye do shew the Lord's death till he come. 27 Wherefore whosoever shall eat this bread, and drink this cup of the Lord, unworthily, shall be guilty of the body and blood of the Lord. 28 But let a man examine himself, and so let him eat of that bread, and drink of that cup. 29 For he that eateth and drinketh unworthily, eateth and drinketh damnation to himself, not discerning the Lord's body. 30 For this cause many are weak and sickly among you, and many sleep. 31 For if we would judge ourselves, we should not be judged. 32 But when we are judged, we are chastened of the Lord, that we should not be condemned with the world. 33 Wherefore, my brethren, when ye come together to eat, tarry one for another. 34 And if any man hunger, let him eat at home; that ye come not together unto condemnation. And the rest will I set in order when I come.
Acts 16:3 "Him would Paul have to go forth with him; and took and circumcised him because of the Jews which were in those quarters: for they knew all that his father was a Greek. 4 And as they went through the cities, they delivered them the decrees[39] for to keep, that were ordained[40] of the apostles and elders which were at Jerusalem. 5 And so were the churches established in the faith, and increased in number daily."
This word ordained in verse Acts 16:4 is not the word "kathistemi"[35] we saw in Luke 12:42 which would have been better translated "ordained rather than "rule over".
---
"There is a simple exercise I walk through with church leaders. First, I have them list all the things that people expect from their church. They usually list obvious things like a really good service, strong age-specific ministries, a certain style/volume/length of singing, a well-communicated sermon, conveniences such as parking, a clean church building, coffee, childcare, etc."
"Then I have them list the commands God gave the Church in Scripture. Usually they mention commands like "love one another as I have loved you" (John 15: 12), "visit orphans and widows in their affliction" (James 1: 27), "make disciples of all nations" (Matt. 28: 19), "bear one another's burdens" (Gal. 6: 2), etc. I then ask them what would upset their people more—if the church didn't provide the things from the first list or if the church didn't obey the commands in the second list." Letters to the Church, Francis Chan.
What about repenting, feeding his sheep, keeping the commandments, making the people gather in tens, to say nothing of forgiveness, love and seeking the kingdom of God and His righteousness? Christ was insistent that is not what you say but what you do which is your confession of true faith or the lack of it.
Chan quotes "bear one another's burdens" from Galatians 6: 2 but in context:
1 Brethren, if a man be overtaken in a fault, ye which are spiritual, restore such an one in the spirit of meekness; considering thyself, lest thou also be tempted. 2 Bear ye one another's burdens, and so fulfil the law of Christ. 3 For if a man think himself to be something, when he is nothing, he deceiveth himself. 4 But let every man prove his own work, and then shall he have rejoicing in himself alone, and not in another. 5 For every man shall bear his own burden. 6 Let him that is taught in the word communicate unto him that teacheth in all good things. 7 Be not deceived; God is not mocked: for whatsoever a man soweth, that shall he also reap. 8 For he that soweth to his flesh shall of the flesh reap corruption; but he that soweth to the Spirit shall of the Spirit reap life everlasting. 9 And let us not be weary in well doing: for in due season we shall reap, if we faint not. 10 As we have therefore opportunity, let us do good unto all men, especially unto them who are of the household of faith.
So if you want your home Church gatherings to be a "household of faith" you must gather in faith doing what the early Church and home assemblies did. That is being a Doer of the word.
---
Church services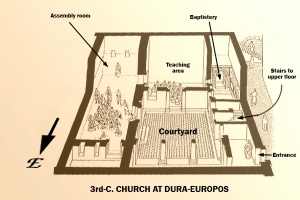 The word Church has become synonomous with Church service until people debate where we should "Do Church". Where did the modern format of "Church service" come from?
"Strikingly, nowhere in the New Testament do we find the terms church (ekklesia), temple, or house of God used to refer to a building. The first recorded use of the word ekklesia to refer to a Christian meeting place was penned around AD 190 by Clement of Alexandria (AD 150-215). Clement was also the first person to use the phrase "go to church"--which would have been a foreign thought to the first-century believers. (You cannot go to something you are!) Throughout the New Testament, ekklesia always refers to an assembly of people, not a place." Pagan Christianity: Exploring the Roots of Our Church Practices, Frank Viola
The Dura-Europos house church is considered one of the earliest identified Christian buildings. It was apparently a normal domestic house which was also used for gathering some time between 233 and 256. It contained frescoes and a room which was dubbed a baptistery by archeologists. This was clearly a Hellenistic house where Christians met before Constantine's edict. The upper floor functioned as a private house with the downstairs for larger gatherings of little more than 60 people. There is a reason to believe that it has been vandalized by ISIS.
What were Christians doing when they gathered?
Justin the Martyr gives us a pretty clear picture of a gathering of Christians in the early part of the second century.
We need to read these texts within the context of the times.

Philippians 2:1 ¶ If [there be] therefore any consolation in Christ, if any comfort of love, if any fellowship of the Spirit, if any bowels and mercies, 2 Fulfil ye my joy, that ye be likeminded, having the same love, being of one accord, of one mind. 3 Let nothing be done through strife or vainglory; but in lowliness of mind let each esteem other better than themselves. 4 Look not every man on his own things, but every man also on the things of others. 5 Let this mind be in you, which was also in Christ Jesus: 6 Who, being in the form of God, thought it not robbery to be equal with God: 7 But made himself of no reputation, and took upon him the form of a servant, and was made in the likeness of men: 8 And being found in fashion as a man, he humbled himself, and became obedient unto death, even the death of the cross. 9 Wherefore God also hath highly exalted him, and given him a name which is above every name: 10 That at the name of Jesus every knee should bow, of things in heaven, and things in earth, and things under the earth; 11 And that every tongue should confess that Jesus Christ is Lord, to the glory of God the Father.
Early Church
We clearly see Jesus "calling out" a small group of men he calls his little flock. He then "appoints" to them "a kingdom" but also "commanded" to gather in groups of Tens and forbid them to "exercise authority one over the other" like the "governments" of the "world".
We see the early Church complying with that command and providing all the social welfare for a broad Christian community that had spread across the Roman Empire. They were eventually persecuted because they would not apply to the temples of Caesar for his "free bread" and welfare benefits. Those benefits of Rome were considered to be deceitful dainties[41] and real Christians had no appetite for those wages of unrighteousness. because that would be coveting their neighbor's goods through men who call themselves benefactors but exercise authority. The called out appointed men, the Church, were benefactors locally and internationally, as we see in acts rightly dividing bread from house to house, providing a "daily ministration" and international relief during economic "dearths". They were able to do this is because they organized the people by a network of voluntary "companies" of tens which were connected through servant ministers of these called out public servants all across the world as Jesus "commanded". The modern Church and even home church groups say it is okay to apply to the rulers of the governments who exercise authority taking from their neighbor to obtain their social welfare benefits which practices do seem to go against Christ and the prophets who said we should not covet nor desire the wages of unrighteousness.
The Kingdom
Jesus told the people what His plan was when He explained what He intended to the Pharisees and others who sat in the seat of Moses. He was going to take the kingdom away from them and appoint it to another group, His little flock, so they could bear fruit that the existing ministers of the Kingdom of God were not producing.[42]
He was not going to take that government away from them by force or even establish that Kingdom of Heaven at hand by the use of force. They would denounce there position out of their own mouths[43] and Jesus would establish His Kingdom of God by His sacrifice and through the faith, hope and charity through love of believers who were willing to repent and live according to The Way which James calls the perfect law of liberty.
Join The Living Network of The Companies of Ten
The Living Network | Join Local group | About | Purpose | Guidelines | Network Removal
Contact Minister | Fractal Network | Audacity of Hope | Network Links

Footnotes