View of Democracy
From PreparingYou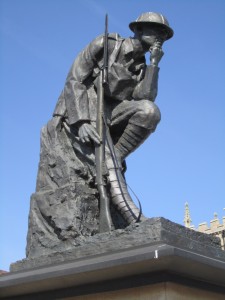 America used to be a
republic
not a
democracy
. Americans used to know the difference.
The 1928 The United States Army Training Manual defined:
"DEMOCRACY: A government of the masses. Authority derived through mass meeting or any form of direct expression. Results in mobocracy. Attitude toward property is communistic - negating property rights. Attitude toward law is that the will of the majority shall regulate, whether it is based upon deliberation or governed by passion, prejudice, and impulse, without restraint or regard for consequences. Results in demagogism, license, agitation, discontent, anarchy."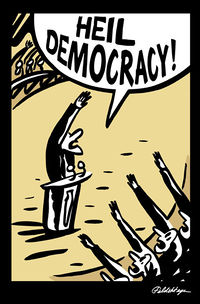 While Americans were busy fighting the social democrats in Germany during World War II the social democrats in in the United States changed the definition of democracy in the Army Field Manual, Soldier's Guide,1952:
"Meaning of democracy: Because the United States is a democracy, the majority of the people decide how our government will be organized and run - and that includes the Army, Navy and Air Force. The people do this by electing representatives, and these men and women carry out the wishes of the people."
This same alteration concerning our understanding of Democracy was going on in the American schools and the way Americans viewed their own history changed.
If the people individually elect to create by consent and deed a legal economic system where everyone only has a Legal title to their property a Democracy can give the people the power through their rulers to reach into their neighbors pocket and take what the majority wants. These systems are what the Bible calls One purse in which "their feet run to evil, and make haste to shed blood".
Democracy allows you to covet your neighbor's goods and cause the people to become snared as Merchandise.
Read more about Democracy.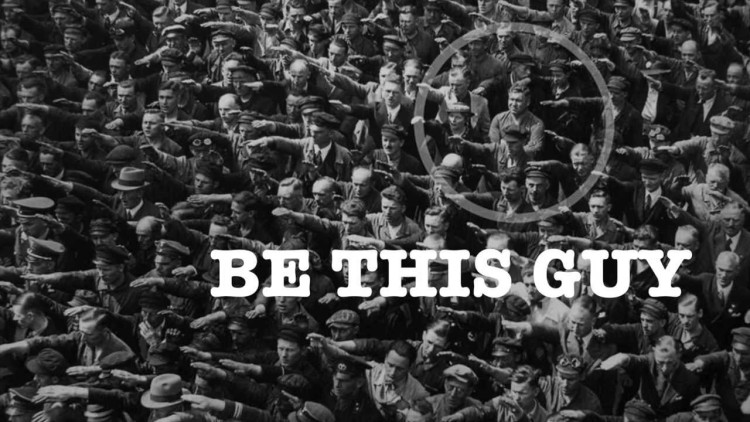 Government | Governments | Civil Government | Government and Liberty Described |
Social contract | Covenants of the gods | Contracts, Covenants and Constitutions |
Nationalism | Republic | Democracy | Minarchism | Statism | Fascism | Federation
Communism | Anarcho communism | Communist Manifesto | Saul Syndrome |
Communist Altruism | Primitive Communism | Karl Marx Marriage |
Collectivism | Altruism | Anarchist | Capitalism | Socialism | Rules For Radicals | Atheist |
Viable republic | Republican form | The Way | Perfect law of liberty | NAP |
Taxation | Tribute | Tithe | Tithing | Pay tribute | Social Security | Corban | Hierarchy |
Imperial Cult of Rome | The Democracy Cult | Employ | Bondage | Mammon |
Nimrod | Mystery Babylon | Saving Babylon | Exiting Babylon | Temples |
Supreme being | gods many | Ideological subversion | Foolishly | Law |
Schools as Tools | Roots of the Welfare State | Covetous Practices |
Consent not | Withdraw consent | Come out | Put out | Cry out | Voice |
Kingdom of God | Church legally defined | Pure Religion | Christian conflict |
Consent | Consent not | Contract | Social contract | Withdraw consent | Assent |
Marriage | Permanency of marriage | Employ | Vows | Swear not | Oath of Naturalization |
Religion | Corban | Private welfare | Welfare | Welfare types | Titular |
One purse | Golden calf | Covet | Merchandise | Benefactors | Sovereign |
Government | Governments | Civil Government | Government and Liberty Described |
Social contract | Covenants of the gods | Contracts, Covenants and Constitutions |
Nationalism | Republic | Democracy | Minarchism | Statism | Fascism | Federation
Communism | Anarcho communism | Communist Manifesto | Saul Syndrome |
Communist Altruism | Primitive Communism | Karl Marx Marriage |
Collectivism | Altruism | Anarchist | Capitalism | Socialism | Rules For Radicals | Atheist |
Viable republic | Republican form | The Way | Perfect law of liberty | NAP |
Taxation | Tribute | Tithe | Tithing | Pay tribute | Social Security | Corban | Hierarchy |
Imperial Cult of Rome | The Democracy Cult | Employ | Bondage | Mammon |
Nimrod | Mystery Babylon | Saving Babylon | Exiting Babylon | Temples |
Supreme being | gods many | Ideological subversion | Foolishly | Law |
Schools as Tools | Roots of the Welfare State | Covetous Practices |
Consent not | Withdraw consent | Come out | Put out | Cry out | Voice |
Kingdom of God | Church legally defined | Pure Religion | Christian conflict |
Road closings | Right to disobey | Adhocracy | Righteousness | The Way |
Law | Divers lusts | Wantonness‎ | Goats and Sheep | Brooking | Robots |
1 Samuel 8 | Proverbs 1 | Proverbs 23 | David Crockett | Self Defense‏‎
Rights | Property rights | Law | Natural Law | Legal | Common Law | Fiction of law |
UNIVERSAL DECLARATION OF HUMAN RIGHTS | Parents have a prior right |
Human Rights | Human Events | Human resources | Universal Service | The Way |
Foolishly | Foolish virgins | The Right of Self-determination | Fraud |
Free Assemblies | CORE | Righteousness | Workers of Iniquity | Doers of the Word | Fruit |
Newsletter | Dear Network | Network Notes | The Kingdom Newsletter |
Thought for the day | Network | Events List | Home | Google map